R & D Lab Technician - Aston, PA
ABOUT FXI
Foam is everywhere. It's in our homes, our cars and our places of work. It's in the products we use every day, the factories that make them – and in many places most people would never imagine. And everywhere foam goes, FXI innovations lead the way.
FXI is a leading producer of foam innovation for the Home, Healthcare, Electronics, Industrial, Personal Care and Transportation Markets. Our products include finished goods, sub-assemblies, services and raw materials for OEMs, fabricators and retailers. You will find FXI's foam innovations inside, around and under yourself in countless applications. We protect automobile passengers on the highway and fragile electronic components in shipment. We help consumers sleep sounder and furniture manufacturers create comfort. We provide for sharper images in digital printers and copiers and help consumers keep their homes clean. We provide critical components for filters, dispensers, gaskets and seals in everything from blood oxygenators to computer disk drives. To discover where FXI really shines, bring your wish list to our design and technical teams and imagine the possibilities in foam innovation.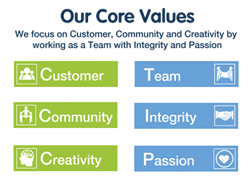 VISION, MISSION, & VALUES
Vision: Building our Future Together
Mission: Providing Tailored Solutions that Delight Our Customers and Consumers
We have built a culture of innovation and achievement that is recognized by customers, suppliers and peers. Join the FXI team!
FUNCTION:
The R & D Lab Technician will assist the chemist or engineer with technical service requests and new product development by performing physical and analytical tests on foams and preparing new product prototypes.
RESPONSIBILITIES:
Perform physical and analytical tests on existing foams, new foam prototypes and competitive products.
Prepare new product prototypes.
Collect, record and report, verbally and written, accurate data on experimental results.
Assist the chemist or engineer in making minor formulation changes.
Ship and keep records of samples sent and received.
Stock and organize lab supplies; maintain a clean and organized work environment.
SUCCESS PROFILE
High school education.
Laboratory environment experience is preferred.
Additional training in the field of chemistry or engineering is a plus.
Mechanical aptitude with the ability to operate equipment (i.e. lab testing equipment, saws, hand tools, etc.)
Strong work ethic, punctual, and self-motivated.
Strong prioritization and time management skills,
Extremely organized, detail oriented with the ability to manage multiple projects at the same time.
Strong verbal and written communication skills.
Proficient in PC use, including Outlook, Word, Excel, and PowerPoint. Advanced Excel skills and Microsoft Project experience a plus.
Benefits Summary
We offer a competitive salary and an excellent benefits package, including medical, dental and vision insurance, basic and optional life insurance, short and long term disability protection, a 401(k) plan with company match, tuition assistance, and flexible spending accounts.
FXI is an EEO employer