ABOUT FXI
Foam is everywhere. It's in our homes, our cars and our places of work. It's in the products we use every day, the factories that make them – and in many places most people would never imagine. And everywhere foam goes, FXI innovations lead the way.
FXI is a leading producer of foam innovation for the Home, Healthcare, Electronics, Industrial, Personal Care and Transportation Markets. Our products include finished goods, sub-assemblies, services and raw materials for OEMs, fabricators and retailers. You will find FXI's foam innovations inside, around and under yourself in countless applications. We protect automobile passengers on the highway and fragile electronic components in shipment. We help consumers sleep sounder and furniture manufacturers create comfort. We provide for sharper images in digital printers and copiers and help consumers keep their homes clean. We provide critical components for filters, dispensers, gaskets and seals in everything from blood oxygenators to computer disk drives. To discover where FXI really shines, bring your wish list to our design and technical teams and imagine the possibilities in foam innovation.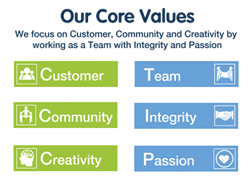 VISION, MISSION, & VALUES
Vision: Building our Future Together
Mission: Providing Tailored Solutions that Delight Our Customers and Consumers
We are currently seeking a Financial Reporting Manager to join our team. The position will be based at our Media, PA headquarters office and will report to the Senior VP - Finance. In this role you will be responsible for preparing financial statements, preparing internal management reports and supporting the financial reporting and forecasting system (Hyperion). In addition you will be responsible for the following:
Leading the annual budget and monthly rolling forecast processes
Coordinating the annual 5 year strategic plan
Preparing monthly financial statements, including income statement , balance sheet, statement of cash flows and statement of stockholders' equity
Coordinating , preparing and compiling board materials and monthly financial review book
Assisting with ad hoc information requests and analysis
Serving as system administrator for various finance analysis and reporting systems (HFM, Hyperion Planning, Essbase)
Completing consolidation of the monthly financial statements, including affiliate accounting and eliminations
Supporting the monthly Corporate accounting close process
Requirements:
B.S. in Accounting or equivalent (CPA preferred)
5-8 years of experience in the accounting field (manufacturing environment preferred) and some public accounting experience preferred
Excellent analytical , in-depth experience with financial statement analysis and a strong understanding of corporate finance concepts
Extensive knowledge of Excel and PowerPoint.
Excellent communication and interpersonal skills.
Organized, detail-oriented, self-directed and ability to multi-task
Team player with a positive attitude and a focus on business issues.
Ability to positively interact with all levels of the organization in a team environment.
Benefits Summary
We offer a competitive salary and an excellent benefits package, including medical, dental and vision insurance, basic and optional life insurance, short and long term disability protection, a 401(k) plan with company match, tuition assistance, and flexible spending accounts.
FXI is an EEO employer