Join the FXI team! For more than 60 years, we have built a culture of innovation and achievement that is recognized by customers, suppliers and peers.
Company Overview
FXI is a part of your everyday life! Our products are inside, around and under thousands of products that you use every day. As a leading Innovator and Strategic Player in the Home, Healthcare, Electronics, Industrial, Personal Care and Transportation Markets, we offer a challenging and rewarding team-oriented work environment.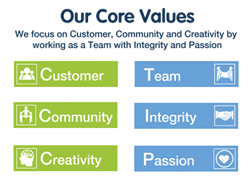 VISION, MISSION, & VALUES
Vision: Building our Future Together
Mission: Providing Tailored Solutions that Delight Our Customers and Consumers
OPERATIONS MANAGER – Orange, CA
Position Summary:
Reporting to the Plant Manager, the Operation Manager provides both tactical and strategic leadership for the plant manufacturing across multiple shifts. This individual will reinforce the use of Lean tools, including 6S, as the method to deliver transparent measurable improvements and build a World Class culture and expertise within the plant.
Responsibilities include:
Develop track and champion operations Key Performance Indicator's (KPI's).
Instill and drive Employee Engagement and company's Mission, Vision and Values through operations
Responsible for planning/scheduling, directing, and coordinating the manufacturing operations for a Production, Fabrication and Shipping department across all shifts.
Plan, organize, and prioritize daily, weekly, and monthly objectives based on business need, product introduction, equipment efficiency and materials.
Ensures labor cost, equipment efficiency and material are optimized.
Champion, lead and execute cost reduction/continuous improvement initiatives.
Responsible for ensuring completion of Job Hazard Analysis, Near Miss Hazard and Behavioral Observations reports accurately and timely.
Champion Safety and ensure achievement of the plant's safety objectives.
Complete all areas of Functional Area Tactical Plan.
Manage, direct and supervise up to 7 direct reports and indirectly 70 hourly union employees.
Ensure customer demands (including material specs, delivery dates) are achieved on time, at the highest level of quality.
Work closely with Sales and Customer Service to proactively address any specification or on-time and full delivery issues
Requirements:
BS in Engineering or Business discipline.MBA is preferred
Six Sigma green or black belt preferred
5-7 years experience in a manufacturing environment
Must have verifiable Lean manufacturing experience
Demonstrated ability to lead and develop individuals and teams.
Demonstrated ability to enforce root case analysis of quality issues and requirements within the scope of TS and ISO Management Systems
Experience with operating and capital budget development and management
Ability to provide oral and written communication to all levels of employees within the Company
Strategic mindset; ability to work in a rapidly changing and growing environment
Union experience preferred
SAP experience a plus

Benefits Summary
We offer a competitive salary and an excellent benefits package, including medical, dental and vision insurance, basic and optional life insurance, short and long term disability protection, a 401(k) plan with company match, tuition assistance, and flexible spending accounts.
Join an industry leader and innovator.
FXI is an EEO employer