Pour Line Specialist (Lead Person)
FXI has one of the largest and most diverse foam manufacturing and distribution networks in the industry. Our technology traces back to the very beginnings of the polyurethane foam manufacturing industry in the 1950s. From that springboard, we are pioneering ever greater innovations and applications for our amazing material.
Our products are inside, around and under thousands of products that you use every day. As a leading Innovator and Strategic Player in the Home, Healthcare, Electronics, Industrial, Personal Care and Transportation Markets, we offer a challenging and rewarding team-oriented work environment.
We have built a culture of innovation and achievement that is recognized by customers, suppliers and peers.
Join the FXI team!
Pour Line Specialist (Lead Person) - Tupelo, MS
VISION, MISSION, & VALUES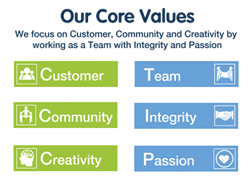 Vision: Building our Future Together
Mission: Providing Tailored Solutions that Delight Our Customers and Consumers
Basic Function: Coordinate the daily operation of the VPF Foam Machine and the Pouring Department to complete schedules in a timely manner and ensure a quality product is produced.
Specific responsibilities include:
Enforce safety regulations
Direct and coordinate hourly crew, either small groups or, if required, full crew.
Conduct accurate physical inventories of chemicals.
Read and analyze charts, work orders, production schedules, and other reports to determine production requirements and to evaluate current production
Coordinate operations and activities within or between departments
Plan and establish work schedules, assignments, and production sequences to meet production goals
Inspect materials, products, or equipment to detect defects or malfunctions
Support the Quality Management System
Resolve worker problems and complaints
Capable of learning to safely unload any and all bulk chemicals
Complete SAP transactions for the department
Set up VPF for pour
Supervise VPF machine during pouring operation
Conduct safety meetings, training sessions
Develop, maintain, implements JHA's
Lead RCA investigations, identify root causes, implement Corrective Actions
Job Requirements:
High School diploma or equivalent required. Associate Degree preferred. A combination of Education and prior experience in a Foam Pouring facility will be considered.
General computer knowledge required (Microsoft Office)
Clear understanding of written and oral English
Work independently under general direction to set priorities, manage workload, and meet deadlines
Attention to details and good math skills
Pass Background Screen and Post Offer drug screen
Benefits Summary
We offer a competitive salary and an excellent benefits package, including medical, dental and vision insurance, basic and optional life insurance, short and long term disability protection, a 401(k) plan with company match, tuition assistance, and flexible spending accounts.
Join an industry leader and innovator.
FXI is an EEO employer.