Foam is everywhere. It's in our homes, our cars and our places of work. It's in the products we use every day, the factories that make them – and in many places most people would never imagine. And everywhere foam goes, FXI innovations lead the way.
ABOUT FXI
FXI is a leading producer of foam innovation for the Home, Healthcare, Electronics, Industrial, Personal Care and Transportation Markets. Our products include finished goods, sub-assemblies, services and raw materials for OEMs, fabricators and retailers. You will find FXI's foam innovations inside, around and under yourself in countless applications. We protect automobile passengers on the highway and fragile electronic components in shipment. We help consumers sleep sounder and furniture manufacturers create comfort. We provide for sharper images in digital printers and copiers and help consumers keep their homes clean. We provide critical components for filters, dispensers, gaskets and seals in everything from blood oxygenators to computer disk drives. To discover where FXI really shines, bring your wish list to our design and technical teams and imagine the possibilities in foam innovation.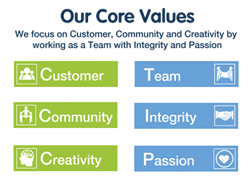 VISION, MISSION, & VALUES
Vision: Building our Future Together
Mission: Providing Tailored Solutions that Delight Our Customers and Consumers
Production Employees- Auburn, IN
WILL TRAIN THE RIGHT PEOPLE
Primary Responsibilities:
Set up and operate machine accurately to maintain the appropriate quality and scheduled quantity of foam required for processing
Load/unload trucks by forklift
Able to move material by forklift and by hand when needed
Understand and apply instructions contained on each production order
Read tape measure to ensure customer specifications are met
Makes tickets, labels, assemble boxes, and palletize finished product
Scan and put material away in inventory area when required
Keeps work area in a high state of cleanliness and organized
Actively participated in Safety Program.
Other duties as assigned by shift supervisor.
Must be an active member of FXI's Safety Program
Requirements:
High School diploma or equivalent required
Previous manufacturing experience preferred
Forklift experience preferred
Good math knowledge
Ability to read tape measure
Previous experience working with an MRP system; SAP preferred
Work overtime, scheduled and unscheduled as required

Shift Hours - Monday - Friday
1st shift 7:00am - 3:30pm
2nd shift 3:00pm – 11:30pm
3rd shift 11:00pm – 7:30am
To apply:
1. Apply online: FXI.com
2. In person Monday-Friday 9am-2pm 2211 South Wayne St. Auburn, IN 46706
Must successfully pass pre-employment drug screen and extensive background check.
Benefits Summary:
We offer a competitive salary and an excellent benefits package, including medical, dental and vision insurance, basic and optional life insurance, short and long term disability protection, a 401(k) plan with company match, tuition assistance, and flexible spending accounts.
Join an industry leader and innovator.
FXI is an EEO employer