Foam is everywhere. It's in our homes, our cars and our places of work. It's in the products we use every day, the factories that make them – and in many places most people would never imagine. And everywhere foam goes, FXI innovations lead the way.
ABOUT FXI
FXI is a leading producer of foam innovation for the Home, Healthcare, Electronics, Industrial, Personal Care and Transportation Markets. Our products include finished goods, sub-assemblies, services and raw materials for OEMs, fabricators and retailers. You will find FXI's foam innovations inside, around and under yourself in countless applications. We protect automobile passengers on the highway and fragile electronic components in shipment. We help consumers sleep sounder and furniture manufacturers create comfort. We provide for sharper images in digital printers and copiers and help consumers keep their homes clean. We provide critical components for filters, dispensers, gaskets and seals in everything from blood oxygenators to computer disk drives. To discover where FXI really shines, bring your wish list to our design and technical teams and imagine the possibilities in foam innovation.
CHEMICAL ENGINEER/ POUR LINE ENGINEER –
In this career growth oriented role the incumbent will work with the as a member of the foam pouring management team at a the plant. The incumbent will learn all aspects of the pouring process to ensure that safety, production, and quality standards are met, and to provide analytical support for process improvements. Ability to understand and resolve mechanical as well as chemical causes of foam production issues by use of effective root cause analysis is a must in this position. You will learn to be responsible for supervision and motivation of an hourly crew of 5-8 people to accomplish the daily production requirements.
The incumbent should be willing to relocate in the future to another plant as part of their career progression with the next possible career steps being Pour Line Manager and eventually Technical Manager.
VISION, MISSION, & VALUES
Vision: Building our Future Together
Mission: Providing Tailored Solutions that Delight Our Customers and Consumers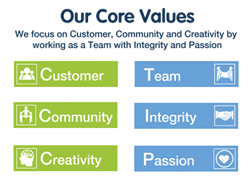 BASIC FUNCTION:
To work with the foam pouring team at a plant to ensure that safety, production, and quality standards are met, and to provide analytical support for process improvements. The person in this developmental role is capable of becoming a Technical Manager with experience and training and must be willing to relocate to a new pouring plant location for growth and/or a promotional opportunity.
PRINCIPAL DUTIES AND RESPONSIBILITIES:
Insure that safety is the number one priority in all pourline activities and that all safety procedures are followed by all members of the pourline team. Oversee EH&S activities for the pouring department.
Monitor daily foam production and supervise the pour line hourly workforce as part of the training process. Adjust formulas as needed to maintain product within specifications. In this role, the incumbent must be fully capable of managing the line in the absence of the Technical or Pour Line Manager.
Participate, along with the Technical Manager or Pourline Manager, in all pour line HR related activities such as appraisals and disciplinary activities
As part of the pour line team, conduct trials to develop new and improved manufacturing processes and foam formulations
Provide analytical expertise for process improvements and SPC/SQC.
Troubleshoot equipment problems and solve process issues.
Direct/facilitate continuous improvement teams and training
Oversee inventory control and ordering of chemicals/raw materials.
Be fully capable of handling all pour line functions in SAP
REQUIRED EDUCATION AND EXPERIENCE:
Bachelor's degree in Chemical or Mechanical Engineering preferred
Task oriented individual able to perform in a fast-paced environment
SPC/SQC and RCA (Root Cause Analysis) experience
Successful candidate will be expected to complete a 40 hr HAZWOPER training to understand proper procedures for safe handling of hazardous and non-hazardous waste.
Must possess planning/organization, analytical and strong problem solving skills
Basic mechanical and electrical aptitude to facilitate troubleshooting foam making problems. Previous foam production experience is a plus
Proficient computer skills including Word, Excel & PowerPoint. Minitab proficiency is a plus.
Experience using SAP or similar ERP system is a definite plus.
Outstanding communication and interpersonal skills
Must be self-directed and able to lead/facilitate diverse work teams
Ability to positively interact with others in the plant in a team environment
Benefits Summary
We offer a competitive salary and an excellent benefits package, including medical, dental and vision insurance, basic and optional life insurance, short and long term disability protection, a 401(k) plan with company match, tuition assistance, and flexible spending accounts.
FXI is an EEO employer