FXI has one of the largest and most diverse foam manufacturing and distribution networks in the industry. Our technology traces back to the very beginnings of the polyurethane foam manufacturing industry in the 1950s. From that springboard, we are pioneering ever greater innovations and applications for our amazing material.
Our products are inside, around and under thousands of products that you use every day. As a leading Innovator and Strategic Player in the Home, Healthcare, Electronics, Industrial, Personal Care and Transportation Markets, we offer a challenging and rewarding team-oriented work environment.
We have built a culture of innovation and achievement that is recognized by customers, suppliers and peers. Join the FXI team!
VISION, MISSION, & VALUES
Vision: Building our Future Together
Mission: Providing Tailored Solutions that Delight Our Customers and Consumers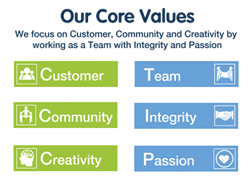 Engineering Manager – Fort Wayne
Primary Duties
Oversee process equipment reliability and improvement initiatives.
Design equipment, or modifications to equipment, to enhance continuous improvement.
Plan equipment layouts; designed for efficiency of operations.
Test and evaluate production equipment and machinery to ensure reliability and efficiency.
Adapt machine and equipment design to plant and production conditions.
Develop and execute preventative maintenance and energy management programs.
Select, coordinate, evaluate and oversee outside contractors.
Schedule and oversee capital expenditures and building projects.
Manage capital budget and department spend.
Develop and foster high performance team environment assuring manufacturing excellence across all the functions.
Responsible for strict adherence to the quality and product control systems for the plant
Ensures that all plant assets are properly managed, safeguarded, and secure
Education and Experience:
B.S Mechanical or Electrical Engineering
Minimum 10 years manufacturing experience
Minimum 3 Years in a Union Facility; preferred
Experience in TPM and Lean Manufacturing preferred
Minimum of 2 years experience with SAP; preferred
Experience Managing Capital Budgets of $1MM annually or higher
Benefits Summary
We offer a competitive salary and an excellent benefits package, including medical, dental and vision insurance, basic and optional life insurance, short and long term disability protection, a 401(k) plan with company match, tuition assistance, and flexible spending accounts.
FXI is an EEO employer