FXI has one of the largest and most diverse foam manufacturing and distribution networks in the industry. Our technology traces back to the very beginnings of the polyurethane foam manufacturing industry in the 1950s. From that springboard, we are pioneering ever greater innovations and applications for our amazing material. Our products are inside, around and under thousands of products that you use every day. As a leading Innovator and Strategic Player in the Home, Healthcare, Electronics, Industrial, Personal Care and Transportation Markets, we offer a challenging and rewarding team-oriented work environment. We have built a culture of innovation and achievement that is recognized by customers, suppliers and peers.
Although FXI San Leandro is part of a large corporation, our plant prides itself in having a fun, family atmosphere. We understand the importance of teamwork and encouraging employees to be challenged to use their talents to the max. Our foam making process is unique, and that's what sets us apart! We are able to give our consumers the products they need in a quick and cost effective way. Be a part of a company that encourages performance in a fun and friendly way!
VISION, MISSION, & VALUES
Vision: Building our Future Together
Mission: Providing Tailored Solutions that Delight Our Customers and Consumers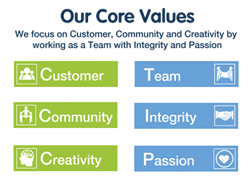 Transportation/Customer Service Rep
Position Summary
Answers incoming calls and e-mails from consumers, customers and sales reps to take orders, answer inquiries, address complaints, troubleshoot problems, and provide product information. Routes outbound deliveries, prepares daily production schedules.
Responsibilities:
Professionally responds to consumer, customer, and sales representatives' telephone and e-mail inquiries
Researches required information using available resources
Provides consumers, customers and sales reps with product and service information
Organizes and keeps records of customer transactions, inquiries, complaints, comments, and actions taken
Identifies, prioritizes, and resolves issues and escalates if necessary
Communicates delivery times, issues, and customer concerns
Completes order entry, quoting, updating customer files, invoicing and shipping of products.
Communicates and distributes orders to production and management
Maintains call logs and reports
E-mails carriers load tenders and routes the outbound deliveries daily
Types daily production schedules for carpet cushion and fabrication outbound deliveries.
Requirements:
Knowledge in Microsoft Office and Excel
Excellent data entry skills required
Possesses a sense of urgency and takes ownership of assigned projects.
Demonstrates the ability to anticipate the needs of the consumer, customer and sales representatives, proactively resolving their need
Proficient in English with excellent verbal communication and written skills
High school education required
Possesses the ability to work independently and be counted on to complete assigned projects in a timely manner
BENEFITS SUMMARY:
We offer a competitive salary and an excellent benefits package, including medical, dental and vision insurance, basic and optional life insurance, short and long term disability protection, a 401(k) plan with company match, tuition assistance, and flexible spending accounts.
FXI is an EEO employer