PRODUCTION SUPERVISOR - SECOND SHIFT
Foam is everywhere. It's in our homes, our cars and our places of work. It's in the products we use every day, the factories that make them – and in many places most people would never imagine. And everywhere foam goes, FXI innovations lead the way.
ABOUT FXI
FXI is a leading producer of foam innovation for the Home, Healthcare, Electronics, Industrial, Personal Care and Transportation Markets. Our products include finished goods, sub-assemblies, services and raw materials for OEMs, fabricators and retailers. You will find FXI's foam innovations inside, around and under yourself in countless applications. We protect automobile passengers on the highway and fragile electronic components in shipment. We help consumers sleep sounder and furniture manufacturers create comfort. We provide for sharper images in digital printers and copiers and help consumers keep their homes clean. We provide critical components for filters, dispensers, gaskets and seals in everything from blood oxygenators to computer disk drives. To discover where FXI really shines, bring your wish list to our design and technical teams and imagine the possibilities in foam innovation.
FXI - VISION, MISSION, & VALUES
Vision: Building our Future Together
Mission: Providing Tailored Solutions that Delight our Customers and Consumers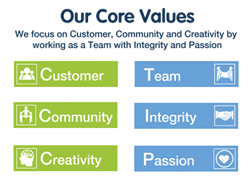 Specific Job Duties:
Train and enforce 100% compliance to job safety requirements; work to develop new innovative methods to improve safety performance
Plan and establish work schedules, assignments, and production sequences to meet production goals
Communicates goals, objectives and expectations to employees
Work with EH&S to record and report accidents, near misses, conduct JHA's, lead investigations and corrective action activities
Communicate equipment issues to maintenance department
Maintain clean and organized work area using 6S methodology
Maintain Key Performance Indicator (KPI) boards, track and report results as required.
Maintain positive and professional appearance
Promote and maintain positive employee relations and activities
Address and resolve employee concerns
Job Requirements:
Minimum 2 years supervisory experience in a manufacturing environment required
High School diploma or GED required. Secondary degree preferred
MRP/ERP experience; SAP preferred
Excellent working knowledge of Microsoft Office applications
Action oriented, multi-tasker, with strong problem-solving and communication skills
Works independently under general direction to set priorities, manage workload and meets deadlines
Demonstrated ability to lead and drive safety initiatives
Ability to positively interact with all levels of the organization
Flexibility to work overtime and weekends when required
Benefits Summary
We offer a competitive salary and an excellent benefits package, including medical, dental and vision insurance, basic and optional life insurance, short and long term disability protection, a 401(k) plan with company match, tuition assistance, and flexible spending accounts. We take great care of our employees!
FXI is a growing industry leader and innovator seeking talented, goal oriented employees to grow with us.
Come join our team!
FXI is an EEO employer.