We are looking for a Logistics Manager who will be the vital link between headquarters, field and corporate decision makers for International Shipping, 3rd Party integration with SAP, financial and customer relations of operations following the corporate strategy. This role is also responsible for ensuring compliance with company and department policies, procedures and lead team in order to provide a safe and productive work environment, optimum customer service and accurate records and implementing activities and supporting assigned strategic objectives while driving continuous improvements.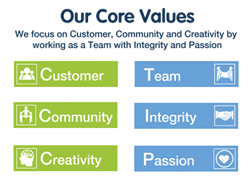 VISION, MISSION, & VALUES
Vision: Building our Future Together
Mission: Providing Tailored Solutions that Delight Our Customers and Consumers
PRINCIPAL JOB DUTIES & RESPONSIBILITIES:
Forecast, plan, manage and ensure department meets defined financial targets including savings projects. Ensure mitigation plans are implemented as required.
Interface directly with third party provider to ensure issues are resolved in a timely manner while maintaining a high level of customer satisfaction.
Strategic operational planning and execution for the operation, including managing operations to ensure internal and external KPIs are achieved.
Model Dedicated Truckload Fleet for optimal utilization and execute fleet changes
Negotiate and implement lane rates for 3rd Party Freight carriers
Identify and/or solve operational issues with both truck and rail account(s) by implementing continuous improvement and other initiatives, to strengthen team unity, goals, productivity and results.
IDEAL CANDIDATE PROFILE
Bachelor's degree in Business, Logistics, Supply Chain or a minimum of eight years of relevant work experience required.
Minimum of three (3) years experience in supply chain, logistics, warehouse or industry related field required.
Minimum of three (3) years supervisory experience required.
DESIRABLE TRAITS AND SKILLS
Excellent problem solving skills
Excellent oral and written communication skills with demonstrated leadership capabilities.
Strong organization, analytical and computer skills.
Ability to create and maintain professional relationships within all levels of the organization (work group(s), peers, customer, etc.)
Ability to create and develop an inclusive and engaged work environment.
Demonstrated knowledge and understanding of supply chain, transportation and carrier management required.
Knowledge of OSHA required; DOT and Hazmat knowledge may be required based on the account(s).
BENEFITS SUMMARY
We offer a competitive salary and an excellent benefits package, including medical, dental and vision insurance, basic and optional life insurance, short and long term disability protection, a 401(k) plan with company match, tuition assistance, and flexible spending accounts.
FXI is an EEO employer